Having been farming daffodils for over 40 years, we are one of the original daffodil flower farms in Cornwall, England. We are a family run business, situated on the banks of the beautiful Helford River in Cornwall. Specialising in traditional, Cornish bred, early flowering, large trumpet daffodils.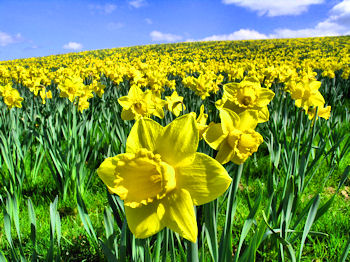 This website is presently to aid recruitment.
After employing daffodil pickers through gang labour, it became clear from conversations directly with the pickers that exploitation existed. This led us to source our own labour direct, to allow each daffodil picker to earn as much as possible.
This website is designed to give you as much information as we can about our farm, where we are and how we work. We feel this is the least we can do seeing as many of you are travelling so far from a foreign country, and in the past having little idea of what to expect.